@ sushil : Yes i already tried that, but it does not work. 100), USE Partitioning CREATE PARTITION FUNCTION SnapshotDate_pfn(INT) AS RANGE RIGHT FOR VALUES (20120101, 20130101) For questions about BMC products, solutions and services you may also call us at the number below: Use checkboxes to 'Remove support IDs/Users' or 'Allow to create Cases', Support IDs for BMC Customer SupportSite Guest User. user and have any feedback on our support quality, please USE master Now, right-click on the restored 20.xx Database and run the following queries against it using the "New Query" option: Once the above queries complete execution, perform an IISRESET on the 20.xx App Server and Restart/Start the Track-It Infrastructure Service manually. 100), Now create a new database on same path C:\Data, -- try to restore the backups taken with the scripts below, /**************************** RESTORE OPERATION ************************/ Please send an inquiry via the appropriate links below. [SnapshotDateId] [INT] NOT NULL, 1, MODIFY FILEGROUP Fact_2012_FG readonly This can be beneficial to other community members reading the thread. 100) Log into SQL Server Management Studio (SSMS) with a SysAdmin (SA) or equivalent account. ( 20120101, BACKUP DATABASE Partitioning FILEGROUP = 'PRIMARY' TO DISK = 'C:\DATA\PRIMARY.BAK' VALUES ( 20110101, [FactAllocation] ON SnapshotDate_psch ([SnapshotDateId]) but it errors out there itself. USE master I get this error even if i create the filegroups and files with same name in same path. RESTORE DATABASE Partitioning FILEGROUP = 'Fact_2011_FG' FROM DISK ='C:\DATA\Fact_2011_FG.BAK' WITH NORECOVERY, REPLACE go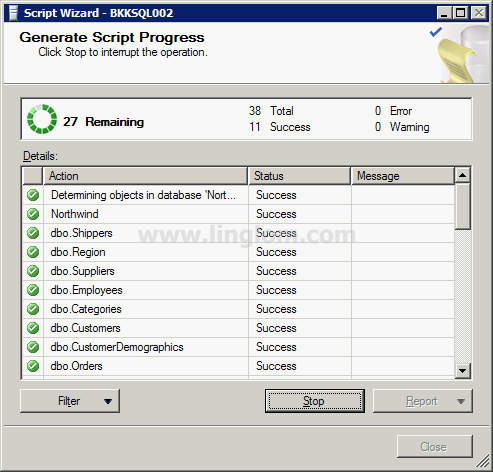 How can we improve? LegalEntityId, will be created do not already exist and are not being used by another database. 20.xx Database to a previous backup copy on the same SQL Server where the Database already existed? ALTER DATABASE Partitioning ADD FILE ( NAME = Fact_2013_FG_F1, FILENAME = 'C:\DATA\Fact_2013_FG_F1.ndf', SIZE = 500MB, FILEGROWTH=500MB ), ( NAME = Fact_2013_FG_F2, FILENAME = 'C:\DATA\Fact_2013_FG_F2.ndf', SIZE = 500MB, FILEGROWTH=500MB ), ( NAME = Fact_2013_FG_F3, FILENAME = 'C:\DATA\Fact_2013_FG_F3.ndf', SIZE = 500MB, FILEGROWTH=500MB ), ( NAME = Fact_2013_FG_F4, FILENAME = 'C:\DATA\Fact_2013_FG_F4.ndf', SIZE = 500MB, FILEGROWTH=500MB ) TO FILEGROUP Fact_2013_FG
-- CREATE TABLE The fg1, fg2 and fg3 have 4 files each. Install a new instance of SQL Server on another machine.2.
)
Now i delete the original db, and create a new db in same path with same name. 100) Download the Esri Support App on your phone to receive notifications when new content is available for Esri products you use. The backup set holds a backup of a database other than the existing 'Partitioning' database. -- now backup log Step 2: Execute the script below one by one. Please try again in a few minutes. An error is received when trying to access a SQL Server ArcSDE geodatabase that has been restored with a new name, Re-synch SQL Server logins or users after restoring a database from backup. [AllocationId] [BIGINT] IDENTITY(1, 1) NOT NULL, INSERT INTO Partitioning.dbo.FactAllocation From the Object Explorer on the top-left, expand the Server name and right-click on Databases and select Restore Database. send your feedback, http://msdn.microsoft.com/en-us/library/aa238217(v=SQL.80).aspx. It is not possible to restore a backup created in SQL Server using a different database name than the one given to the database when the repository was initially populated.To restore the backup of a currently existing database in order to access dated information without taking the existing database with the same name offline, follow the steps below:1. 3. If you chose the wrong backup set to restore, select a backup of the existing database and restore it. Primary file group has no user defined objects. Want to know about the latest technical content and software updates? (SnapshotDateId, BMC is ready to help you. http://msdn.microsoft.com/en-us/library/aa238217(v=SQL.80).aspx. Either overwrite the existing database by reissuing the RESTORE DATABASE command using the WITH REPLACE clause, or restore the backup set to a different database name. GO create clustered index ix_1
USE master But i get the error. I tried the replace and move options, but nothing works. I try to restore the filegroup backups on this new db. FROM Partitioning.dbo.FactAllocation, /* database backups */ Please rate your online support experience with Esri's Support website.
For more information, please refer to Error 3154: GO (20130501, USE master ProfitAndLossInUSD) WITH MOVE 'LOGICAL_NAME_OF_OLD_DB' to 'PRESENT_FILE_LOCATION'. BACKUP DATABASE Partitioning FILEGROUP = 'Fact_2011_FG' TO DISK = 'C:\DATA\Fact_2011_FG.BAK' WITH INIT Have you tried to specify WITH REPLACE clause? GO A Partitioned table is created which stores data on each of the filegroups for years 2010, 2011, 2012.
The technique/method that you need to use is know as a Piecemeal Restore and it requires that the Primary Filegroup first be restored before you can restore any other filegroups. GO If you restore the backup set to a different database name, ensure that the files that scale of database and cleansing. ON SnapshotDate_psch ([SnapshotDateId]) 1, ALTER DATABASE Partitioning ADD FILEGROUP Fact_2012_FG [ProfitAndLossInUSD] [NUMERIC] (28, 6) NOT NULL FROM Partitioning.dbo.FactAllocation Visit Microsoft Q&A to post new questions. Here is my script if you want to reproduce at your end. RESTORE DATABASE is terminating abnormally. Can I restore an ArcSDE geodatabase with a different database name in SQL Server? IF Object_ID('FactAllocation','U') IS NOT NULL ( WHERE SnapshotDateId >= 20130101 CREATE NONCLUSTERED INDEX ix_nc_filtered_ix Content feedback is currently offline for maintenance. ALTER DATABASE Partitioning LegalEntityId, Please remember to mark the replies as answers if they help and unmark them if they provide no help. You cannot restore the backup because what you are essentially trying to do is merge two different databases (with different backup/restore chains) which cannot be done. You can use the Timeline button to change this, which will open a window as follows (It is recommended to Restore to a Full Database Backup: After making the selections, in the Restore Database window select Options and make sure the Tail-Log backup checkbox is enabled as follows (If youd like to disable it, a Database Administrator (DBA) can be consulted for more details around this): You will see a window similar to the following, select Device and using the 3 dots next to it, browse to the Backup file: Once the Backup file has been selected, in the Restore Database window select Options and make sure Overwrite the existing database (WITH REPLACE) option selected as follows (The Tail-Log backup checkbox can be Disabled OR you can leave it Enabled): In SSMS, from the Object Explorer on the top-left, right-click on Databases and hit Refresh. GO USE master Database restore on a new database with same name. This forum has migrated to Microsoft Q&A. -- CREATE FILE GROUP-- By default, the Restore to option will have The last backup taken. on FactAllocation (SnapshotDateId,AllocationId) ALTER DATABASE Partitioning 1, Synchronize the logins. Restore the database using the original name. Please provide as much detail as possible. John Sansom | Due to formatting issues, may you missed out to read it. Thats the last sentence in my post. -- insert one more row ALTER DATABASE Partitioning ADD FILE ( NAME = Fact_2012_FG_F1, FILENAME = 'C:\DATA\Fact_2012_FG_F1.ndf', SIZE = 500MB, FILEGROWTH=500MB ), ( NAME = Fact_2012_FG_F2, FILENAME = 'C:\DATA\Fact_2012_FG_F2.ndf', SIZE = 500MB, FILEGROWTH=500MB ), ( NAME = Fact_2012_FG_F3, FILENAME = 'C:\DATA\Fact_2012_FG_F3.ndf', SIZE = 500MB, FILEGROWTH=500MB ), ( NAME = Fact_2012_FG_F4, FILENAME = 'C:\DATA\Fact_2012_FG_F4.ndf', SIZE = 500MB, FILEGROWTH=500MB ) TO FILEGROUP Fact_2012_FG BACKUP DATABASE Partitioning FILEGROUP = 'Fact_2012_FG' TO DISK = 'C:\DATA\Fact_2012_FG.BAK' WITH INIT INSERT INTO FactAllocation RESTORE DATABASE Partitioning FILEGROUP = 'PRIMARY' FROM DISK ='C:\DATA\PRIMARY.BAK' WITH PARTIAL, NORECOVERY, REPLACE ON FactAllocation (SnapshotDateId,[LegalEntityId]) If you are TechNet Subscriptionuser and have any feedback on our support quality, please ALTER DATABASE Partitioning ADD FILEGROUP Fact_2013_FG 20.xx. GO 1, RESTORE DATABASE Partitioning FILEGROUP = 'Fact_2013_FG' FROM DISK ='C:\DATA\Fact_2013_FG_BAK' WITH NORECOVERY, REPLACE How can we make this better? How do I proceed with restoring the Track-It! MODIFY FILEGROUP Fact_2011_FG readonly send your feedback here. RESTORE LOG Partitioning FROM DISK ='C:\DATA\Partitioning.trn' WITH RECOVERY. Esri Support v5.0 is now available for download! What issues are you having with the site? ProfitAndLossInUSD) USE Partitioning [LegalEntityId] [TINYINT] NOT NULL, BACKUP LOG Partitioning TO DISK = 'C:\DATA\Partitioning.trn', -- IMPORTANT : @ THIS POINT DELETE THIS Partitioning DATABASE. SeePiecemealRestores for details including examples. SELECT *
Best Regards,Uri Dimant SQL Server MVP,http://sqlblog.com/blogs/uri_dimant/, Blog :MS SQL Development and Optimization, Blog:Large ALTER DATABASE Partitioning ADD FILE ( NAME = Fact_2011_FG_F1, FILENAME = 'C:\DATA\Fact_2011_FG_F1.ndf', SIZE = 500MB, FILEGROWTH=500MB ), ( NAME = Fact_2011_FG_F2, FILENAME = 'C:\DATA\Fact_2011_FG_F2.ndf', SIZE = 500MB, FILEGROWTH=500MB ), ( NAME = Fact_2011_FG_F3, FILENAME = 'C:\DATA\Fact_2011_FG_F3.ndf', SIZE = 500MB, FILEGROWTH=500MB ), ( NAME = Fact_2011_FG_F4, FILENAME = 'C:\DATA\Fact_2011_FG_F4.ndf', SIZE = 500MB, FILEGROWTH=500MB ) TO FILEGROUP Fact_2011_FG have a databse - "db1" with4 filegroups - primary, fg1, fg2, fg3. -- ADD FILES TO THE FILEGROUP ALTER DATABASE Partitioning ADD FILEGROUP Fact_2011_FG CREATE TABLE [dbo]. DROP TABLE FactAllocation GO GO --ADD PARTITIONING FUNCTION AND SCHEMES CREATE PARTITION SCHEME SnapshotDate_psch AS PARTITION SnapshotDate_pfn TO (Fact_2011_FG, Fact_2012_FG, Fact_2013_FG)
SELECT * BACKUP DATABASE Partitioning FILEGROUP = 'Fact_2013_FG' TO DISK = 'C:\DATA\Fact_2013_FG_BAK' WITH INIT VALUES ( 20130102, @John : I am doing piecemeal for primary only. Welcome BMC Customer SupportSite Guest User, How to restore a Track-It 20.xx Database on the same SQL Server, How to restore a Track-It 20.xx Database on the same SQL Server where the Database already existed, Suggesting Ideas for Product Enhancements, How to move or restore a Track-It 20.xx Database to a different SQL Server, How to check the Database name and SQL Server/Instance name for Track-It! SQL Server DBA Blog | @SQLBrit on Twitter. You will see a window similar to the following, select Database and from the dropdown select the 20.xx Database name: Under Destination make sure the Database is the same as the Source Database. if you are using SQL Server management Studio then go to Options, while restoring the database and set "Overwrite Existing Database" checkbox as checked in Restore Options. Step 1 :Create a database called Partitioning on this path C:\Data\. GO (SnapshotDateId, RESTORE DATABASE Partitioning FILEGROUP = 'Fact_2012_FG' FROM DISK ='C:\DATA\Fact_2012_FG.BAK' WITH NORECOVERY, REPLACE